China Firewall Test
Test if the Great Firewall of China blocks your site in real-time.
Enter the URL you want to test
How does our GFW Block Test work?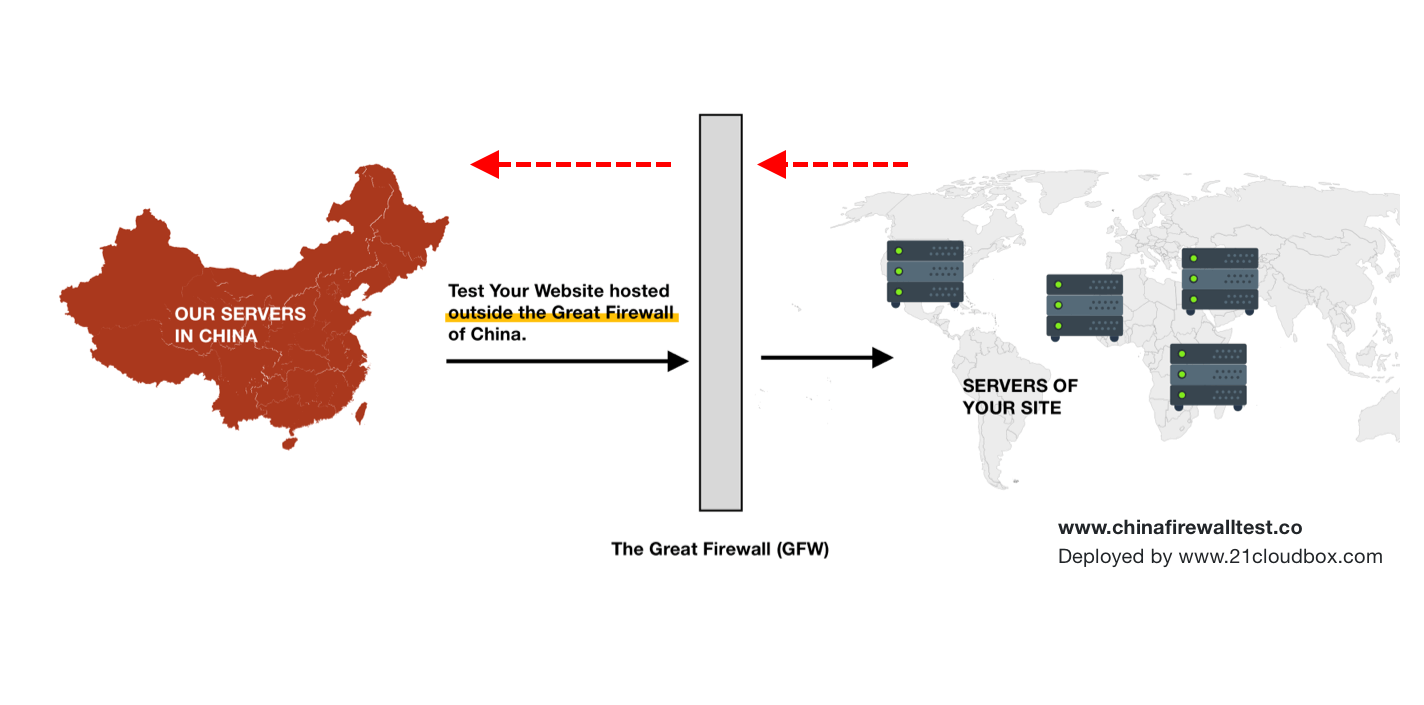 We have servers inside the Great Firewall of China; when you put a URL in the above input box, our servers will request access to the URL and the china compliance status of the site.
To test websites from China or see if the websites comply with the China content law and regulations, you need to enter the URL in the above input box.
If your site is not blocked, our servers can go thru the Firewall and visit your site, and you should be able to see green checkmarks ✅ in our report. On the other hand, If you see some ❌, your site is likely blocked (not accessible inside the Firewall) or not operating in compliance with Chinese Laws.
Examples
Some popular websites, platforms, and apps used in the west have been blocked, such as:
❌ Blocked in China
❗️ Soon be blocked
✅ Works In China
Examples below are Blocked / Inaccessible inside China's Firewall:
Examples below are Accessible but out of China's compliance:
Examples are Accessible and Compliant with China's Firewall:
👉 We can't list all the sites here, so if you are curious if your site is blocked in China, You can test your own using the input box above or get in touch with us to see what we can help you with getting your site working in China.
Some firewall checkers show my site works ok in China, but why is your checker showing blocked here?
China is big. With over 1 billion netizens in China. Most checkers can't give you the full availability check in China with a grantee.
We set up servers in major areas in China to provide you with the best possible coverage. The golden rule for your site to have long-term stability in China is to check if the site is fully compliant with China laws.
Most sites we saw that turn from available in China to blocked in China are not following the regulation in China. For example, the "❗️ Soon be blocked" examples in the above table are likely to perform unstably (meaning you have no problem visiting the site now but fail to open the site tomorrow or anytime soon) in China.
Is my site blocked in China?
You can find out by inputting your page or site URL, and we'll run a real-time test for you. Here is an example of our GFT block test for facebook.com: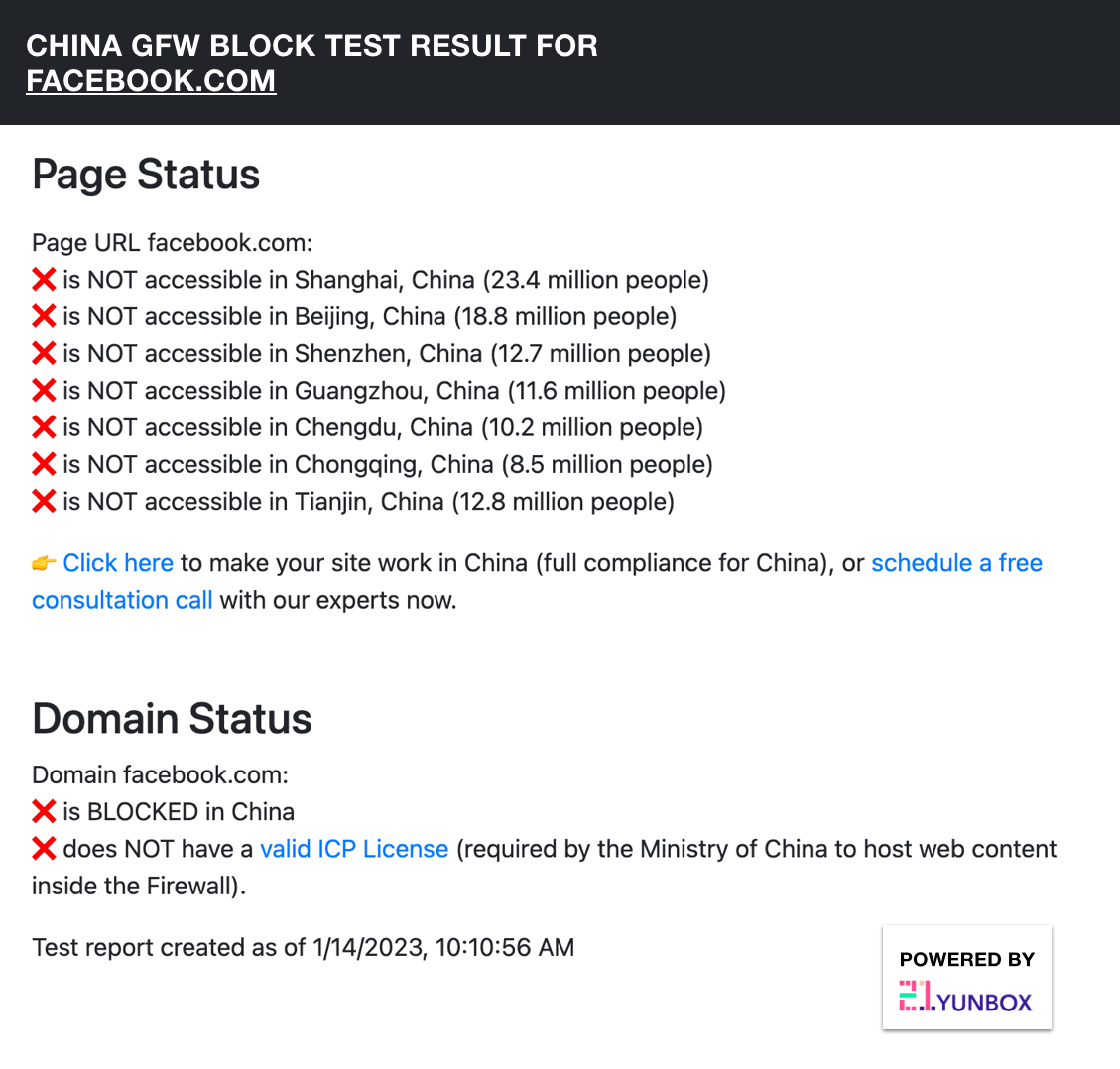 Why are some sites blocked in China?
There is a long history. The Golden Shield Project (or in Chinese 金盾工程) was initiated in 1998 and began operations in November 2003. They build the "Great Firewall of China" (GFW), which is a censorship and surveillance project that blocks data from foreign countries that may be unlawful in the PRC (People's Republic of China).
How to make your site work in China?
The golden rule is to host your site inside the Great Firewall of China. So every time a visitor in China visits your site, they will be at the best possible speed. To achieve that, the Chinese government has outlined 5 obligations that companies must follow when hosting their websites go live. The legal permit you need to host your site in China is to have an ICP license. If all that sounds daunting, reach out to us; we'll give you a free consolation call to help you get your site working in China with full compliance.
How to unblock blocked sites in China?
The Great Firewall of China has its rules (dynamically updated regularly) to monitor keywords or phrases in webpages and domain names. So they decide if the site is blocked, and once it's blocked, it's rare to get it unblocked. Suppose you are looking for solutions that get your domain (websites) unblocked in China. The golden rule is to get a new domain in China (the .CN domain) and stay compliant with Chinese laws.